The Red Handfish (Thymichthys politus) is OLi – the world's rarest fish!
The Red Handfish is found in only two small patches of reef in south-eastern Tasmania

There are only around 100 adult OLi left in the wild!

They are so rare that scientists will not disclose where their second population is to prevent poaching
About the Red Handfish
There are fourteen species of handfish in total. Three reside only in Tasmania and are Critically Endangered! The others are found across the southern coast of Australia in deep, temperate reef systems. The handfish species get their common name from their large hand-like pectoral fins they use to "walk" across the seafloor.
They don't swim, which limits their dispersal ability and makes them vulnerable to habitat changes.
OLi has two colour morphs – a bright red all over and a pinkish-grey with bright red appendages. They are usually less than 10cm in length and rely on their Camouflage power to hide from predators. They have a mossy appearance and texture that helps with their camouflage.
Little is known about their habits, but they have been observed eating small marine worms and they require a deep-water rocky reef with plenty of vegetation to hide in.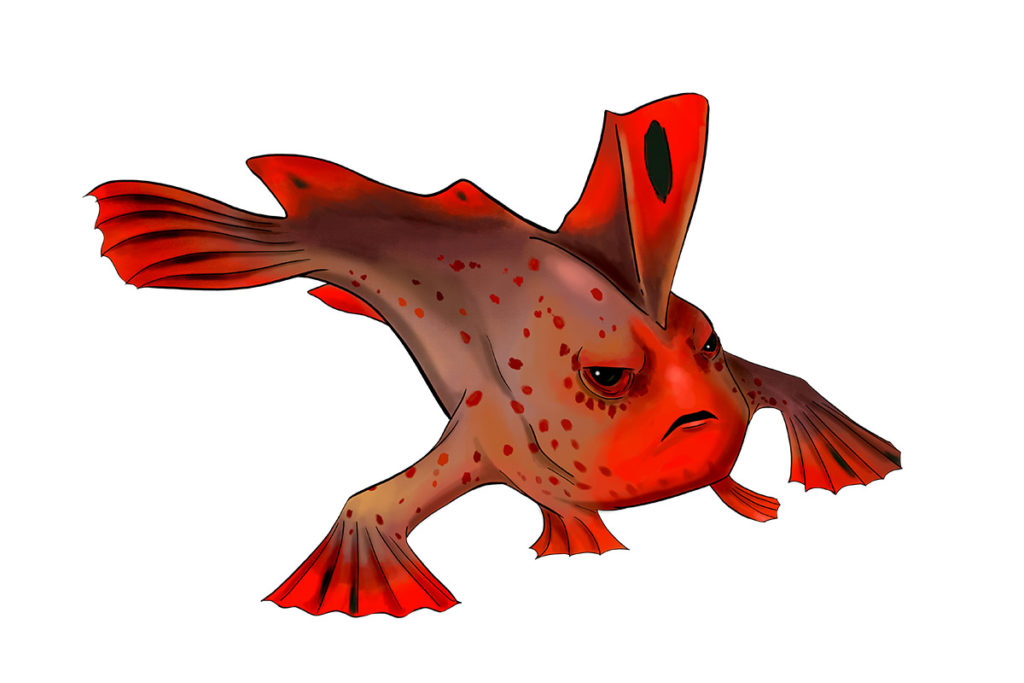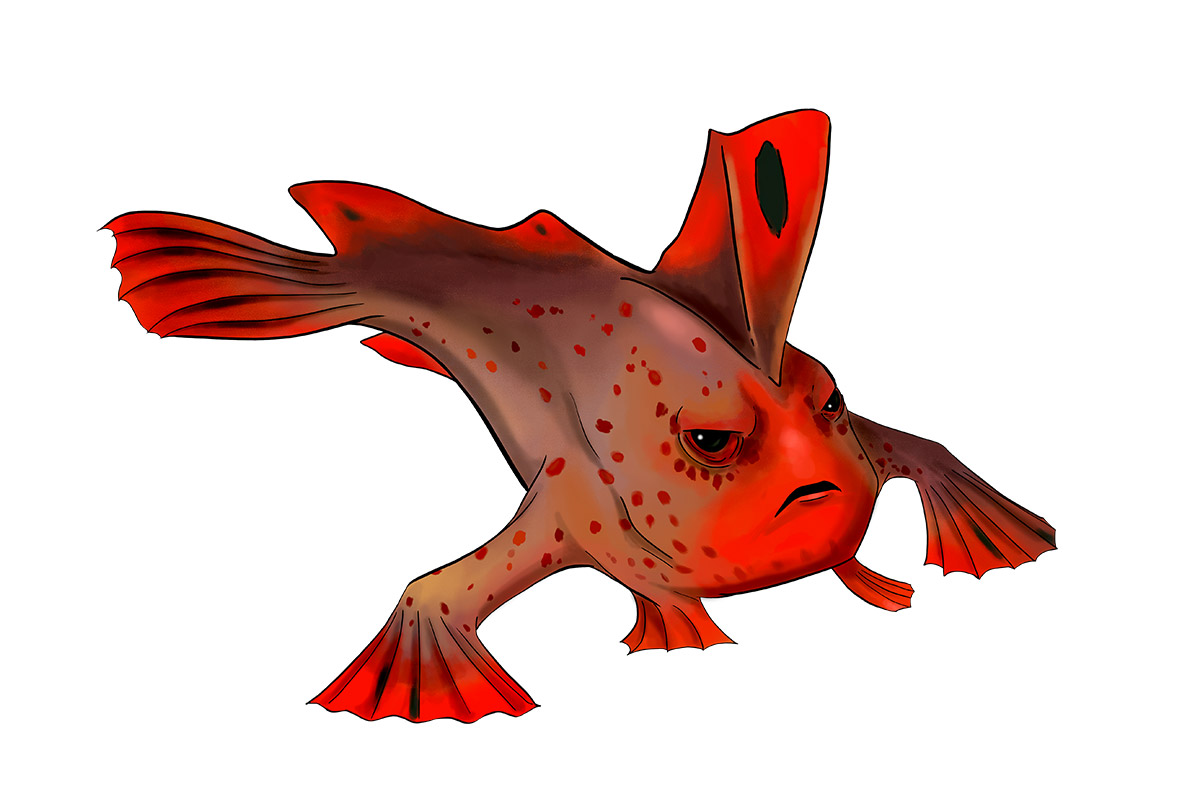 The World's Rarest Fish
The red handfish only has two known populations, both of about 20-50 individuals. Their primary location is a reef off the south-eastern coast of Tasmania, measuring only about 50 metres by 20 metres.
A second population was discovered in 2018, doubling the known population of red handfish. The second population was discovered after a member of public reported seeing a red handfish at the location. It took a team of seven specialist divers two days to search the reef and find a single OLi! They were about to give up when one diver spotted a different shape among the seaweed, a lonely red handfish!
Scientists will not disclose where the second population is in order to protect them from poachers. 
Citizen science is a big part of handfish conservation efforts. Since they are so rarely seen, scientists are encouraging recreational divers to report sightings of handfish online. Dr Jemina Stuart-Smith of the Institute of Marine and Antarctic Studies (IMAS) is involved in this citizen science project and says that it was through citizen science that they noticed the initial decline in handfish populations, along with a decline in the quality and extent of their seagrass habitat. Now, there is a National Handfish Recovery Team and dedicated Handfish Conservation Project helping to research, plan, and engage the community in OLi conservation. 
Breeding the Red Handfish in Captivity
Late last year CSIRO and the IMAS announced that they had managed to hatch 50 baby red handfish in captivity. The babies, called 'fry', hatched from two egg masses that were collected in the wild by IMAS researchers.
They were taken to an IMAS aquarium facility where they were able to hatch without threat of predators, pollution or poachers. They will be raised in the facility for about a year before being released to an undisclosed location where it is hoped they will be able to become parents themselves and contribute to increasing the red handfish population. 
The CSIRO and IMAS handfish raising project is beneficial not only in the short-term because more eggs hatch than would in the wild, but in the long-term too.
Being able to observe the handfish hatch and develop allows scientists to gain a better understanding of their reproductive biology and development. Knowing more about these factors will allow researchers to put better management practices in place.
Dr Stuart-Smith says that this is an incredibly positive step towards saving OLi, but it will take several years to see any benefit to the wild populations. 
Red Handfish Ranger
Dr Stuart-Smith works with handfish almost daily, whether in the water diving to assess habitat and monitor populations, or behind the computer engaging with researchers and supporters.
The conservation effort so far has been quite intensive, and she and her team have learnt that collaboration is the key to conservation.
The Handfish Conservation Project that Dr Stuart-Smith runs combines the efforts of researchers, citizen scientists, industry partners, commercial fisheries, and locals. Together, they have worked on strategies to bring this species back from the brink of extinction and continue to work towards ensuring the populations become self-sustaining.
How ANiMOZ Rangers can help OLi
To support OLi conservation, Rangers can raise awareness of this unique and highly rare species through sharing information and raising the profile of the species.
You can also make sure you play your part in Check out handfish.org for more info!