Welcome, Rangers, to the game changing conservation!
In the world of ANiMOZ, you are a Ranger tasked with protecting rare and endangered animals, and building healthy ecosystems to let your species thrive.
The world of ANiMOZ…
"Deep in the dark of the forest under a starlit night sky, RiNU* emerges from a hollow log. She's aware that dangers are everywhere, but as an Apex predator she must find food. Her night vision and teeth attack mean that only HARRiSii is an immediate problem, but she must also contend with a habitat getting smaller and smaller as more of the humans build houses and roads…"
You are an ANiMOZ Ranger, and your mission is critical.
ANiMOZ species are depending on you to build healthy ecosystems by using their powers to overcome dangers and survive clashes with other animals.
ANiMOZ is a Tradable Card Game focussed on the incredible world of real-life animals and centred around the human-powered dangers they face. These creatures have unique and often barely-believable powers, but are almost unknown in the wider world, and ANiMOZ will help engage kids of all ages in the conservation issues facing the animals of Australia.
*Where are these ANiMOZ names coming from? Each species has a common name, a taxonomic name and an ANiMOZ codename. The codename comes from their species specific taxonomic name. For example: the Eastern quoll (Dasyurus viverrinus) is codenamed RiNU! When you see a codename, have a look to see how it ties in with the taxonomy of that unique Aussie animal.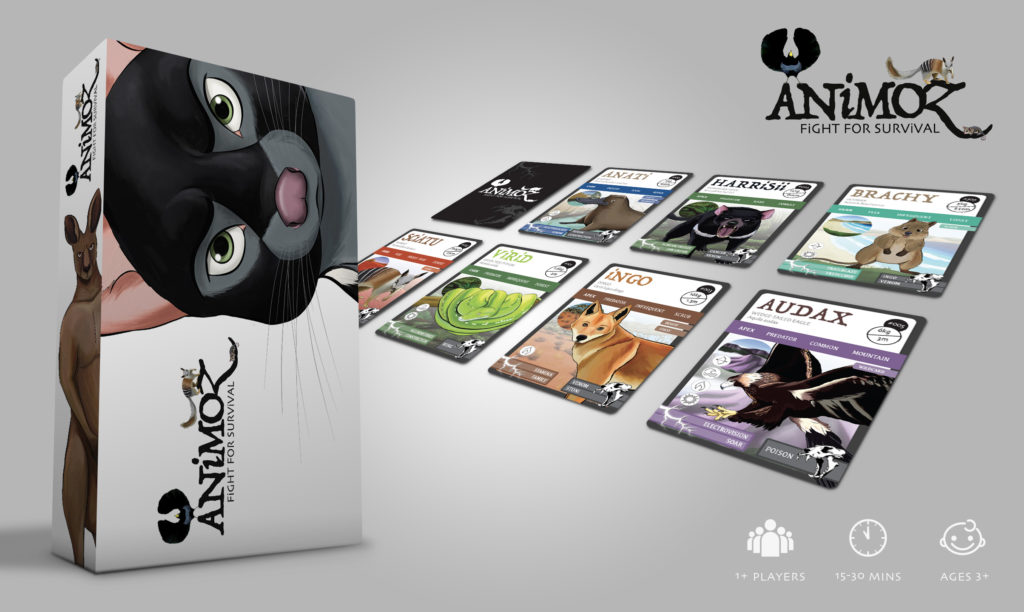 What is in the ANiMOZ Starter Pack?
The ANiMOZ Starter Pack has 54 Australian animals in stunning illustration. The cards show their Powers and Weaknesses, the dangers they can overcome during gameplay, and much more information!
As a Ranger, you will learn about some of the most endangered Australian animals – and some of the most unique – whilst comparing favourites with other Rangers and challenging them to gameplay. The Starter Pack contains species from seven different BiOMEs: Forest, Desert, River, Scrub, Mountain, Coast and Sky!
Build your ecosystem, protect your sanctuary and save your ANiMOZ species!
So, how does the gameplay in ANiMOZ work?
ANiMOZ is primarily a Tradable Card Game with Booster Packs planned for release in mid-2020.
We encourage Rangers to collect different species, beginning with the Starter Pack, and build their 'ANiOME' (Collection of ANiMOZ cards) whilst falling in love with the incredible biodiversity out there. With so much detail on the cards, and so many amazing species, Rangers can create their own games: who can turn over 5 animals from the same BiOME first? Who wins the most Clashes by revealing species at random?
However, there are suggested gameplay rules for when Rangers come upon each other in the wild! The essential rules are as follows:
Each Ranger chooses their BiOME
Shuffle and deal out the other cards (so each Ranger has their 9 BiOME cards and up to 9 other cards)
Place 3 animals in your Sanctuary, and 1 in your Ecosystem (now called the Eden card) – these must all be from your BiOME.
Take turns choosing to do 1 of: place a card in your Sanctuary, challenge another Ranger to a Clash, or tell all Rangers to place a card in respective Ecosystems before rolling the Endanger Die!
Each of the above turns will result in a variety of building your Sanctuary or Ecosystem, or losing animals to the Life Cycle!
When a Ranger runs out of animals in their hand or in their Sanctuary, the game enters Rumination. Remaining Rangers have two turns each, and then the game has ended
When the game ends, each Ranger gets points dependent on the animals in their Sanctuary and Ecosystem
The Ranger with the most points is Head Ranger!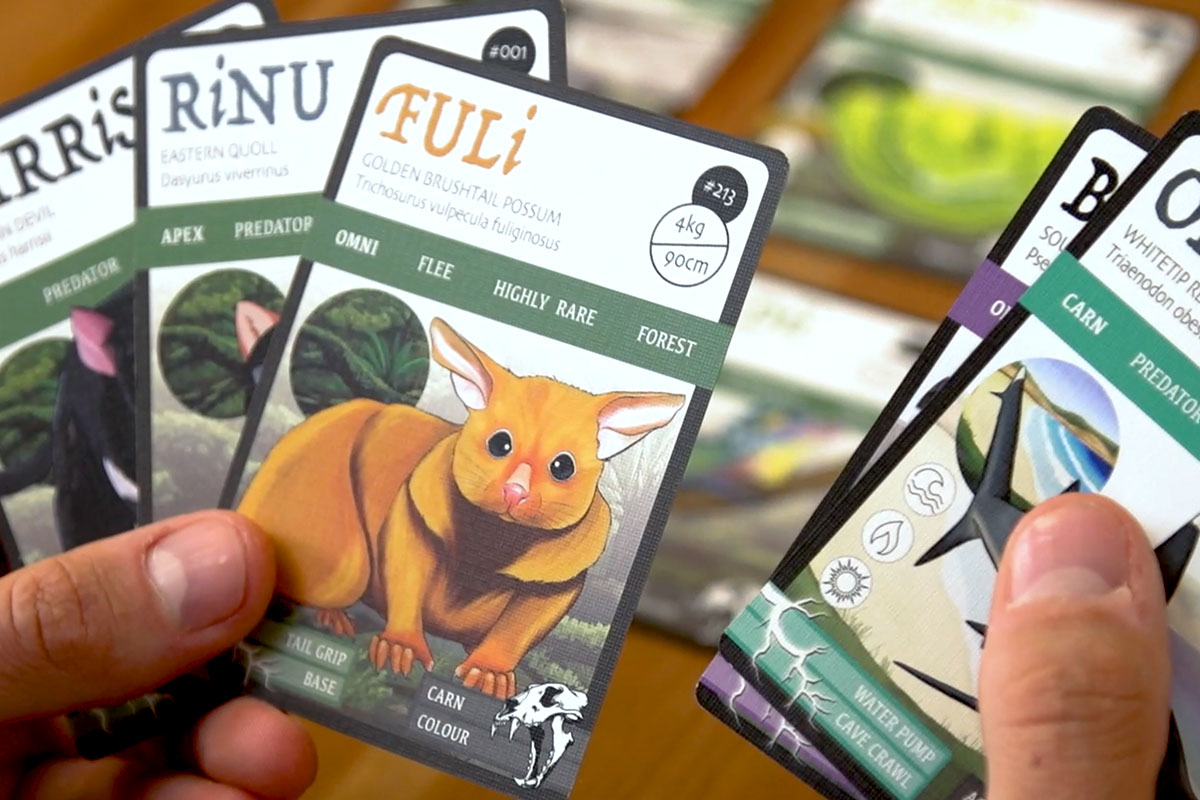 How does ANiMOZ – Fight For Survival help save Australian animals?
In a number of ways!
In our first full year of operation (2019-20), more than 10% of our profits went back to organisations like Rewilding Australia and Aussie Ark, helping them to continue their amazing work caring for, breeding and reintroducing some of Australia's most endangered animals – like RiNU and HARRiSii!
We're committed to putting at least 10% of profits straight back into conservation work in the field moving forward, increase that as we can.
We also offset all emissions associated with the operation of ANiMOZ, including manufacturing and transport, through the organisation South Pole!
But the most important way the game will change the conservation landscape is through enabling Rangers of all ages – particularly our future leaders – to fall in love with the breathtaking, staggering world of Aussie animals.
Sign-up to our newsletter and join the growing ANiMOZ community for special deals, advanced notice of new card releases, involvement in future ideas, and more.
Welcome to the World of ANiMOZ!