In our Ranger Community series, we hear from ANiMOZ Rangers out in the field about how they use the game to learn about, teach about and support wildlife.
Ranger Adrian from Wildlife Gone Walkabout writes to Headquarters about how they use ANiMOZ!
Children at their very core are scientists. They ask questions, predict answers, and test their theories using trial and error. They are inquisitive, passionate and easily inspired.
With the right tools, children can discover wonders far beyond our expectations, and become the pioneers of science, for our future. 

ANiMOZ – Fight for Survival is not just another card-based strategy game. It packs all of the same punch as small, multiplayer combat games like Pokémon to draw in young players. However, it also introduces a second, far more important element; By introducing real Australian wildlife species as the game's focus, players can learn about the amazing powers of Australia fauna in a fun and exciting way.
ANiMOZ offers extensive yet easily digestible information about each species, habitat, adaptations, diet, threats and more. Through a compelling layout and beautiful illustrations, children and adults alike can understand all about each animal without reading pages of text. 
Playing the game
One of the main highlights of ANiMOZ is the adaptability in gameplay; a feature shared by the adaptable animals it features. The Ultimate Ranger Gameplay is suitable for many ages and engages its players to dive into the lives of each species on their card, discovering how to thrive in their ecosystem. However, it doesn't stop there. The cards allow for players to create their own games, in ways that I could only imagine. The possibilities are endless, including duelling, wildlife spotting and more.
Each species also has an identity with a name, like HORRiD, the Thorny devil, which is incredibly important in the fight for conservation. Rangers can identify with the animal, like other heroes in their lives. With their ranger starter pack in hand, they can take on the climate crisis with all of the skills and knowledge they have learned from all of their wildlife role models. 
At Wildlife Gone Walkabout, we use ANiMOZ as part of our interactive wildlife encounters when travelling to schools and kinders across Victoria. There's nothing like meeting your hero in real life, and with these cards, that's exactly what we can give to each child we visit. Teachers are asked to use the cards as pre-incursion resources and activities so children can familiarise themselves with each species that will be coming into the classroom. Then, when Wildlife Gone Walkabout comes to visit, they can see their cards come to life!
The cards also provide a starting point in the classroom for creative writing, drawing, report writing, and more visual learning activities.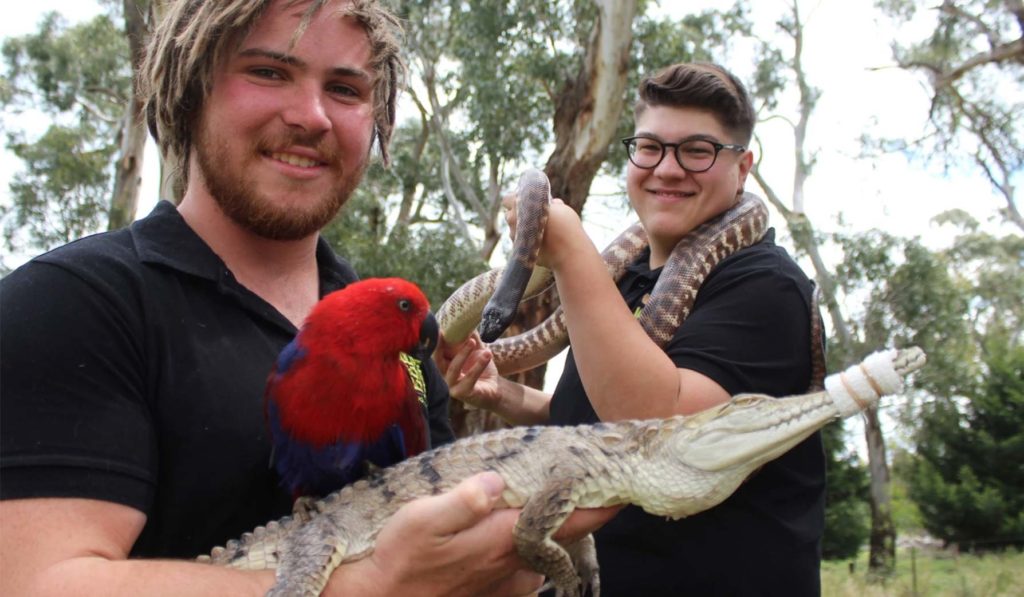 Engagement matters
But, why? Why is it so important to get children learning about Australian fauna?
In the words of the late Steve Irwin, Australia's wildlife warrior:
"If we can teach people about wildlife, they will be touched… Because humans want to save things that they love."
The more we know about our wildlife, the more we will appreciate them, and the more we will want to save them. Take those first steps with ANiMOZ – Fight for Survival. 
Written by Ranger Adrian Black
Owner and Director of Wildlife Gone Walkabout
ABOUT WILDLIFE GONE WALKABOUT
Wildlife Gone Walkabout is an educational mobile zoo, travelling all across Victoria teaching conservation and sustainability through interactive wildlife encounters. Based in the Macedon Ranges and home to 60 native Australian animals, our mission is to inspire every generation into understand the importance of all living creatures. Through education, we can preserve the fabric of the Australian landscape and maintain the rich and diverse landscape found nowhere else in the world.  Our work in primary and secondary schools, universities, festivals, media, film and more, allows us to give everyone a wildlife experience they can't find anywhere else.
Wildlife Gone Walkabout | Australian Fauna at Your Fingertips
WEBSITE // 0499 884 831 // EMAIL